I saw Skyfall three times this weekend. THREE. And I cried at the end of every one. CRIED. Ok. I loooovvvveee me some James Bond. But what struck me about the Bond Girl Severine was her make-up. Which, should strike everyone, because her face (and short lived presence in the plot) was amazingly made up in her pivotal scene. The Makeup Artist really walked the fine line of almost too much makeup. For, Bernice Marlohe's sake, her face can take an insane amount of product. And I give her props, because she wore the makeup, the makeup didn't wear her. And even more curious, and pleasing, was that the makeup added to her character, which was uncannily fragile given the circumstances which she and Bond meet. And also, uncannily gave her the appearance of a dyed in the wool Dragon Lady. I loved her makeup (and her) so, so, so much!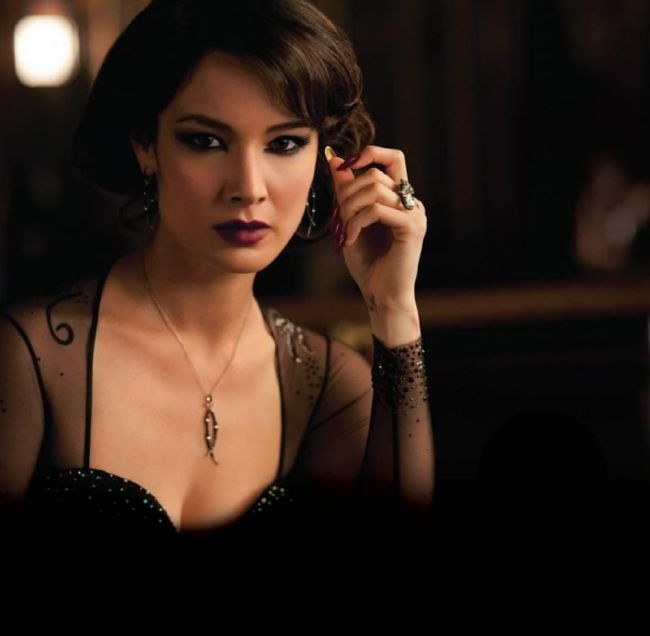 Severine and the shit ton of makeup she has on.
What I like about the look is the strong lip, strong eye, bare face trifecta going on. Which suits me fine. I don't care overly much for blush, and while Severine is probably wearing it, it's very minimal. The lip depending upon the angle in the film, or the still, you look at is very much full on vamp. It's red. It's dark. It's probably layers of products, given the overall voluptuous look of it, with a pinked red liner, red filled in and darker plum almost stain overtop. It's crazy. The eyes are black and smoky. Angled to complement her own eye shape, with deep rivulets of black in the inner corners. In the film, this can be slightly distracting to observe, but it doesn't detract from the look overall.
MY RENDITION
I have an insane amount of product on. Literally. It's intense.
Eyes
I first laid down a black gel/creme base, rather hapahazardly onto the lid and buffed it upwards towards the crease, being very conscientious to NOT wing the shape out. Then I used a thick angled brush and a matte black shadow to trace in the wing into the upper crease. Once there I gently drug the line parallel to the lashes across the top of the crease. Then I blended the crap out of it, to make it a less harsh line and promote the soft and diaphanous shape the eye seems to have. Onto the lid I packed the same black onto the lid and blended some more. The underneath was a very soft, smudgeable charcoal pencil drawn along the bottom, blended out. I packed EVEN MORE black on the underneath and blended as well. I kohl rimmed my eyes with a black pencil, and highlighted the brow with a dense fluffy brush packed with a light yellow toned shadow. Then. Mascara. Approximately 12 coats, and I'm not even kidding. Finished off, with GIANT Brows.
- Tarte EmphasEYES Amazonian Clay Creme Liner in Black
- UD Blackout and Foxy Eyeshadows
- UD 24/7 Smudgeproof Liner in Perversion
- Revlon Grow Luscious in Graphite
- Lorac Front of the Line Pro Liquid Liner in Black
- Benefit They're Real! Mascara
- Eyeko of London Skinny Brush Mascara
- Anastasia Brow Powder Duo in Brunette
Face
Don't even bother doing your base until you've done the eyes. I didn't experience a ton of fallout, but you may want to clean up a tiiiiny bit with a makeup wipe under the eyes if you are deepset and dark-circle-y. The face I took a new approach to, that I am certain I will be continuing with in the future, because I truly dug the effect. I mixed equal parts of L'Oreal Magic Lumi Primer with MAC Face & Body. I blended them on the back of my hand until the amalgam had thickened, then applied it to my face using a Real Techniques stippling brush, and buffed it in. Then I applied another layer of just the thickened MAC & Body. The over all effect was very lifted, luminous and dewy with out being greasy or shiny. Then I hit the concealer. Hard. I started off with Maybelline Fit Me in 25, blended and used to shape the outer corner as a base concealer. Once it was mostly dry, I applied a little of Garnier Anti-Dark Circle Eye Roller in Medium/ Deep on the inner corners and into the most recessed areas of my under eyes. THEN (yeah I used every concealer in my arsenal) I took MAC Mineralize Concealer in NC25 in the "Triangle of Light" Formation. Finally, I contoured the cheeks using a dark red/ bronze cream stick and the Real Techniques foundation brush. A touch of highlighting with Illamasqua Halcyon and a good set with a finishing powder and boom! Face. Done.
I couldn't help myself. This picture is hilarious.
Lips
I just picked products and started to layer and blend until I felt I had gotten the shade right. I started with Beaute Cosmetics Liqui-Stain Gel in Flouron so the base stayed red/pink instead of pulled muddy. Added some Revlon Balm Stain in Romantic, to push the pink more into the red. From there I blended on MAC Nightmoth Lipliner into the balm to start darkening it. On top, to get it to pull brown I applied a Wet n'Wild Matte Lipstick in 915C, blotted and blended more Nighmoth into it. Rinse and repeat until I thought it was dark enough, then to get the purply hue, I blended Kate Moss for Rimmel Lipstick in 04 over top. Really I just applied the thickest layer I could, and blended more with a lip brush to keep it from looking more even and less caked on.
Yeah. This is a ton, ton, ton of makeup. It took me almost an hour to do and do well. But, overall, I'm pleased.
Disclaimer: I'm not a makeup artist. I have no excessive technical skill with makeup. I just tried to recreate what I saw.