Let's get this party started!
FAVES
Physicians Formula 2 in 1 Eye Booster Liquid Liner - Extra Black - I only buy extra black eyeliner, and while this isn't the blackest liner I've used, it's certainly the liner that has given me the most control. I love the brush tip, and the product flows out smoothly. I get really nice liner shapes from this product. And the Eye Boosting/ Lash Boosting properties I'm testing out, more will be revealed in due time. Stay tuned! (Anyone else like how I Easter Egg these posts?)
from Ulta.com
Tarte Park Avenue Princess Amazonian Clay Matte Bronzer - It's fall! That doesn't mean I can't be lightly bronzed! I stopped using this bronzer in the spring because I really wasn't seeing it on the skin, at all. So I shelved it, got a slightly darker bronzer and went on my merry way. Now that my skin has paled out a bit, this bronzer works wonderfully as a winter bronzer. It's cool toned, matte and not too orange. I also change how I bronze my face in the winter. I avoid a giant kabuki brush that gets more bronzer on the skin, instead opting for a 109 with a smaller domed, and more contoured look.
from tartecosmetics.com
FAILS
Organix Brazilian Keratin Therapy Shampoo - I'm not sure what it is about this shampoo, but it simply doesn't work for me. It sort of mats my hair together, sucking the volume out of it, and making it just sit on my head like terrible swaths of hanky hair. Do Not Want.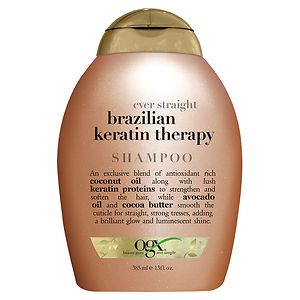 From Drugstore.com
COMPLIMENTARY SWOTCH
So, if you're feeling a wee bit cheap, and don't really want to shell out the $$ for OPI's Berlin There Done That from their OPI Germany Collection, well... visit your nearest Rimmel Duster my friends, cuz Rimmel Lasting Finish Pro in Steel Grey is prettttyyy close to it. Check it out.
L - Rimmel Steel Grey, R - OPI Berlin There Done That
Ok, it's not exact. But it's close.
THE GREAT PRODUCT USE'EM UP
I always seem to use a shit ton of hair products and body care products each month. I think its great, because it's making me use everything up and it's keeping me from hoarding products, like a, well, beauty product hoarder. Also, if you couldn't tell, I have a raging, raging addiction to the Body Shop. Some people hate it, I'm not one of those people. I have fragrances and body washes and skin care and hair care, and I haven't had to pay for the Love Your Body Discount... in... YEARS. Yeah. I have a problem. Anyways, you all can safely rest assured that all of these items have been successfully recycled!
BOOKS
I reviewed Blackbirds on BTT awhile ago, and Chuck Wendig came out with the sequel - Mockingbird. Yes - the birds is a major theme. This book is perfect for October - it's a mix of horror, urban fantasy, comic book staging and thriller all rolled into a quick read book, that's written incredibly well. The second book, is a major improvement over Blackbirds, and I really enjoyed the direction Wendig took Miriam in a very strong direction, and while it was semi-predictable, as it follows a typical anti-hero arc, it was still refreshing because he injected perspective into Miriam that she was lacking previously. I really enjoyed it.
from angryrobotbooks.com
MUSIC
Oh and uh, check this shit out. Matt Rach - a well know guitar genius on YT kicking Pachelbel's Canon in the face. It's literally amazing.
Woot! Happy Friday peeps!