Guess whats, back.. Back again, Faves & Fails! Tell a friend! Guess whats back, guess whats back, guess whats back, guess whats back, guess whats back... Da dada... Oom de oom de oom de oom.. Da dada Oom de... I created a monster!
I'm sorry. Truly, deeply. I just love Eminem.
FAVES
MAC Face & Body Foundation in C2 - I recently was on the prowl for a sheer foundation with buildable coverage, because I realized that, freakishly, every single foundation I owned was a TM. I know, what the fuck right? I was testing out UD Naked Skin and I'm still not sold. Perhaps I will go check out the Chanel Vitalumiere Aqua, but in the meantime I went back to my old tried and true. MAC Face & Body. I love it. It's water based, an EXCELLENT color match for me, and really does layer a treat and look like skin.
From MACcosmetics.com
Oribe Dry Texturizing Spray - This stuff is an alchemical amalgam of hair awesome. If a dry shampoo and spray wax had a baby, it would be this. I love using this on dirty hair to give it extra volume and pizazz. It turns my flat lank hair, into a lovely textured mess of a cut. AND I LOVE IT. Bonus, it smells so amazing! I can't even put my finger on what the scent actually is, but, it's delightful. The only downside is Oribe is ridiculously expensive. Like, borderline crazy expensive. I bought the travel size, which is 2 oz, and it was $20. Full size is $32.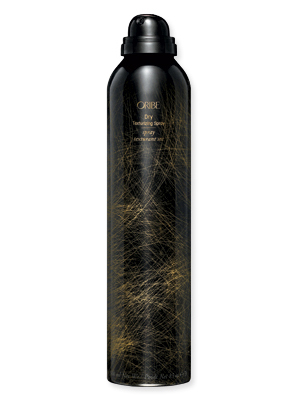 from Instyle.com
FAILS
My Current Haircolor - I got impatient and rash, and after convincing myself that I really wanted to have my hair entirely my natural color, I dyed it. Like a moron. I thought, as in seriously thought, that I was going to be getting a chocolate brown color, and thanks to Argan One and Only Haircolor and Developer system, I now have black hair with a tint of red. The damaging of my hair by dyeing has done wonderful things for my haircut, it's got body and natural texture that really makes it great to style. Too bad the color is really not me. Like, really not me. It's too dark and makes me look too... Jersey. Even though it's loathesome, I can work with it. But its so dark that I can't really do anything about it, so I have to sit on my hands (again) and try not to do anything rash (again). But really, its this dye that is giving me fits. It stains. I am completely stained on my hairline, two days and multiple attempts at exfoliation later, to the point that I have to style my bangs to cover the marks. I CAN'T GET IT OFF. I also have been having a crap time at getting it to wash out of my scalp. I'm not sure what they put in this system. But its terrible. Don't buy it. Or use it. EVER.
from Amazon.com
RANDOM
The products I've used up in the month of August.
Does anyone else think that it's sick to do use'em up posts? As in, it promotes hoarding? I'm not being serious about it, but I always feel weird keeping trash around when I could throw it away! I'm going to try to get better at maybe just documenting the used up products weekly. But for the most part, it's a pretty decent spread.
Music
Ah Chevelle, my secret favorite band. I've been into them since I was in high school, and I've always thought the lead singer was so hunky. They're the kind of band that you know it's them every time you listen, and then they go away for awhile, but when they come back you're reminded of how GOOD they are. This song isn't a typical Chevelle song, they always have that unique sound, very original to them, that I never really hear duplicated among other bands, but it's still very, very good.
Books
I may start doing book reviews on the BTT, because like everything else, I am opinionated about these as well. Lately, I've just been burning through a firestorm of books, because quite a few authors I follow have released new titles that I have just been devouring. The one I am currently reading is by Meljean Brook and it's called Riveted. It's from her Iron Seas Steampunk Romance novels. And they are seriously good. This is the third full length novel from her, and there are three smaller novellas. This one diverts from the main couple a bit, there was a novella that provided some structural stage for this book before it was released, but in the scope of all of the characters, this book is covering relatively new characters: Annika and David. What I love about Meljean's steampunk world is she very much re-imagined the Earth at a point in history that was rife with exploration, adapted it to steam power and cleverly created a premise for a series of novels with a mad hatter sort of re-imagining of history.
from Amazon.com
Even More Random But Still Makeup Related
Carrie Mathison on Homeland uses MAC Blot Powder. She just daubed some on. I'm watching season 1, episode 11.
from IMDB.com