HOMG! Kstew cheated on RPatz! THE WORLD AS WE KNOW IT IS NOW ENDING! All of this attention on Kstew has lead me to notice one thing about her, especially because her face is now, literally, everywhere - that hussy! And that thing is that if you can get past the hair, and her expressions, she has great makeup. Like all the time! It's always this messy, smudgy, smoky without being too overdone or contrived, look. Half the time, I am envious of her makeup and the other half of the time, I am envious of her clothes, because I dig her personal style. It's kind of anti-feminine, but it works! I like that there is a lack of frills and sparkles to her look, that it's mostly colorblock and uses unique materials. As much as it pains me to admit, because I really think that without Twilight no one would care about her, I kind of covet her look.
from USweekly.com
FAVES
Supergoop! City Sunscreen Serum
- This was a sample I received in my
July Birchbox
and I squeezed every little loving drop out of my packets. S!CSS was moisturizing, wore well under makeup, had minimal white cast, and made my skin feel better no matter what foundation and moisturizer I coupled with it. It wasn't overly greasy, and sank into my skin. This is SPF 30, which is my preferred method of protection, because I am not prone to burning SPF 50+ is overkill on me and actually can make my face whiter than my body, which I'm not crazy about. Now, I'm not a sunscreen wearer, but I love this sunscreen! In fact, I can't wait to buy a full size of it! If only... if only it wasn't $42 for 1.7 oz. SERIOUSLY! SUPERGOOP!! Why you gotta be so $$? Is there some magic unicorn dust that you had to travel the bi-frost for to get? I mean... good lord. I can get a nice Neutrogena sunscreen for $10! WTF. AGH! I guess I'm going to have to rack up some Birchbox points, so I can get a discount on it!
from birchbox.com
Revlon Va Va Violet Lipstick - I am over summer. Blistering heat? Sweating? Not being able to wear leggings? No thank you. In an effort, to give mother nature a push in the right direction, I have taken to wearing dark violet lipstick. Enter in Revlon Va Va Violet, I purchased this from Rite Aid, when Revlon was 40% off, and let me tell you. It's love. It applies better and darker to dry lips, can be blotted down, and fades relatively evenly. This is from Revlon's Super Lustrous Lipstick range, but is pretty matte, and doesn't pull too black or harsh on my lips. Love it!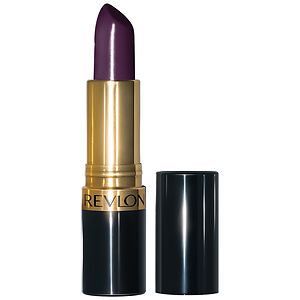 from drugstore.com
FAILS
Julep Nail Vernis Sasha Nail Polish
- So remember that NOTD that I promised when I posted my Julep Introductory box review? There's a reason I haven't followed through with it.
It's... well... how do I put this politely, kind of unfortunate. I know I am not the best manicurist, but I still put up NOTD pics because I want to get better, and I want to show off colors I think are hot. Out of the three nail polishes I received with my Julep It Girl box, Sasha, a nice coral-cantaloupe-y hue, was the one that really blew my skirt up. So naturally I manicured my hand with it. Unfortunately, it also looked like I Jackson Pollack-ed my hand - part of which, has noting to do with my semi-ineptitude. The brushes are
tiny
, the polish is
runny
and the slim rectangular brush handle is really awkward for me to hold and messes with my control while painting my nails. It was just... fail. FAIL. I've had the polish on for two days and its already chipping. I'm not sure what happened, because the polishes I tested out in Sephora were so much
better
than Sasha. I just don't know! Needless to say, I don't think I will be continuing with the
Julep Maven
box after August.
Meep why!?!




RANDOM
Music -
Anyone heard Young the Giant's cover of R. Kelly's - Ignition? No? Let me fix that for you!
Buh Bayum! You're welcome!
Etsy
To be quite frank, lots of people geek out over Pride & Prejudice... but I geek out over Jane Eyre. I geeked out when Mia Wasikowska played her, and geeked out even more when Mr.Rochester was played by Michael Fassbender in the movie. If given the choice to be Lizzie or Jane - I'd be Jane. Some people may think that is lame. But Jane has a quiet strength which I love, plus she's very funny and in her own way secretly rebellious. I think Jane is very kick ass. And I think this etsy scarf with the scene in which Jane confronts Mr. Rochester with her feelings and essentially tells him that he can go eff himself if he thinks that he is superior to her and the depth of her feelings, is AMAZING.
It's love in scarf form.
Weird Fashion Craving
Galaxy print leggings. I'm not kidding. I
desperately
want a pair. I'm glad galaxy print is so randomly en vogue. Cuz I love me some space and I love me some leggings. And if you marry the two... well... SOLD!
from Romwe.com
Thanks for reading!
-/L.